Gene therapies available in the US
Since the beginning of gene therapy research over 40 years ago, our understanding and technological advancements in gene therapy have taken giant leaps forward.1 In 2017, for example, after extensive research in labs and in human clinical trials around the world, the first gene therapies were approved by the Food and Drug Administration (FDA) for use in the United States.2,3

As of June 2021, the FDA had approved 2 gene therapy products.4
Examples of FDA-approved gene and CAR T therapies
APPROVED GENE THERAPIES
Type of Therapy
Disease State(s)
Year Approved
Gene Addition
Adeno-associated virus vector, in vivo
Inherited retinal dystrophy5
2017
Adeno-associated virus vector, in vivo
Spinal muscular atrophy6
2019
APPROVED GENE THERAPIES
Type of Therapy
Disease State(s)
Year Approved
Gene Addition
Adeno-associated virus vector, in vivo
Inherited retinal dystrophy5
2017
Adeno-associated virus vector, in vivo
Spinal muscular atrophy6
2019
APPROVED CAR T-CELL THERAPIES*
Type of Therapy
Disease State
Year Approved
CAR T
Lentiviral vector, ex vivo
Acute lymphoblastic leukemia (ALL)7
2017
Retroviral vector, ex vivo
Relapsed or refractory large B-cell lymphoma3
2017
Retroviral vector, ex vivo
Mantle cell lymphoma (a rare form of non-Hodgkin lymphoma)8
2020
Retroviral vector, ex vivo
Certain types of large B-cell lymphoma9
2021
APPROVED CAR T-CELL THERAPIES*
Type of Therapy
Disease State
Year Approved
CAR T
Lentiviral vector, ex vivo
Acute lymphoblastic leukemia (ALL)7
2017
Retroviral vector, ex vivo
Relapsed or refractory large B-cell lymphoma3
2017
Retroviral vector, ex vivo
Mantle cell lymphoma (a rare form of non-Hodgkin lymphoma)8
2020
Retroviral vector, ex vivo
Certain types of large B-cell lymphoma9
2021
*These are not exhaustive lists of therapies.
To date, the FDA has received more than 900 applications to investigate gene therapy in clinical trials.

Gene-ius Questions
To help understand gene therapy, here is a general example of a gene therapy and how it moves from research to a potential therapeutic reality:
Scientists discover the genetic basis of a disease, which might be a mutation in a single gene10
Scientists target their research on ways to modify the specific mutation10
Different kinds of gene therapy techniques are explored in a laboratory in order to figure out which are most effective and show the most promise in treating a genetic disease11
Once scientists find a technique that they believe has the potential to work, the gene therapy goes through preclinical research and rigorous clinical trials to evaluate the safety and efficacy of the treatment11
Successful completion of clinical trials may result in approval by regulatory authorities such as European Medicines Agency (EMA) and the US Food and Drug Administration (FDA) and a specific gene therapy becoming available for people with the disease12,13
To learn more about the impact of regulatory authorities on the history of gene therapy, click here.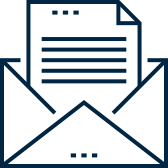 Keep learning with Genehome
Expand your knowledge with gene therapy and content sent directly to your inbox.
References
1. Wirth T, Parker N, Ylä-Hertuala. History of gene therapy. Gene. 2013;525(2):162-169. 2. Food and Drug Administration. FDA approval brings first gene therapy to the United States. Press release. Accessed July 1, 2021. https://www.fda.gov/news-events/press-announcements/fda-approval-brings-first-gene-therapy-united-states 3. Yescarta® (axicabtagene ciloleucel) [prescribing information]. Santa Monica, CA: Kite Pharma, Inc.; 2017. 4. Food and Drug Administration. FDA continues strong support of innovation in development of gene therapy products. Press release. Accessed July 1, 2021. https://www.fda.gov/news-events/press-announcements/fda-continues-strong-support-innovation-development-gene-therapy-products 5. Luxturna® (voretigene neparvovec-rzyl) [prescribing information]. Philadelphia, PA: Spark Therapeutics, Inc.; 2017. 6. Zolgensma® (onasemnogene abeparvovec-xioi) [prescribing information]. Bannockburn, IL: AveXis, Inc.; 2019. 7. Kymriah® (tisagenlecleucel) [prescribing information]. East Hanover, NJ: Novartis Pharmaceuticals; 2017. 8. National Cancer Institute. CAR T-Cell therapy approved by FDA for mantle cell lymphoma. Accessed April 28, 2021. https://www.cancer.gov/news-events/cancer-currents-blog/2020/fda-brexucabtagene-mantle-cell-lymphoma 9. Food and Drug Administration. FDA grants accelerated approval to loncastuximab tesirine-lpyl for large B-cell lymphoma. Accessed April 28, 2021. https://www.fda.gov/drugs/fda-grants-accelerated-approval-loncastuximab-tesirine-lpyl-large-b-cell-lymphoma 10. Amberger JS, Bocchini CA, Scott AF, Hamosh A. OMIM.org: leveraging knowledge across phenotype-gene relationships. Nucleic Acids Res. 2019;47(D1):D1038–D1043. 11. Food and Drug Administration. Human gene therapy for rare diseases: guidance for industry. Accessed July 1, 2021. https://www.fda.gov/media/113807/download 12. Food and Drug Administration. Development & approval process: drugs. Accessed July 1, 2021. https://www.fda.gov/drugs/development-approval-process-drugs 13. European Medicines Agency. From laboratory to patient: the journey of a medicine assessed by EMA. Accessed July 1, 2021. https://www.ema.europa.eu/en/documents/other/laboratory-patient-journey-centrally-authorised-medicine_en.pdf